Disclosure: I am a member of CreativeLive's affiliate program. This post contains affiliate links through which I may be compensated when visitors click through and make a purchase.
CreativeLive offers free LIVE classes...
I had a recent discussion with the folks at Creativebug (they've finally assigned someone to manage their affiliate program, which means that emails are at least answered now) in which I tried to impart to them the importance of highlighting the "free" aspect of their promotions.
Not to say that they should be offering things for free, but if they
do
offer free things (which they do), telling people about it should be their number one or number two marketing priority. So why is it so hard for them to make a small banner — geared to sewing — that focuses on the fact that they give away a free trial period? Maybe that's just a question for the ages. I guess I should be happy with small steps in that they now answer my emails.
But my point is that "free" brings in the traffic. I know that from my own blog and you know for a fact that you've landed in various other blogs because of popular posts containing free tutorials. Come on, who doesn't like the idea of being able to try/do/have something for nothing? It's a marketing tactic that's likely been successful for centuries.
So on the topic of free stuff, I'm here to tell you about the latest and greatest free stuff that I've found... on
CreativeLive
.
It is somewhat like Craftsy and Creativebug but I would say that it trumps both in terms of the free content. The "catch" — if you want to call it that — is that you have to watch it as it is being broadcast live or randomly rebroadcasted later. If you want to have it on your own time and at your own schedule, you pay. Simple arrangement, isn't it? And yet so uniquely inclusive and accommodating.
On one of my first visits, I briefly "sat in" on a
Digital Scrapbooking with PhotoShop
class (taught by Michelle Stelling; at the time it was also on sale for $59, down from $79). The part that I saw was very well produced and I had no buffering issues with the video. At the same time as this class was playing, there were five others that were available: two having to do with photography, one about WordPress plugins, one having to do with music production, and one about "getting to yes" in business (i.e., how to craft an effective pitch). Most of these free offerings run repeatedly for two days, so it's not like you have to be available for one specific hour in order to attend.
As you can tell, there is a wide variety of content.
I like that. I have interests in things other than crafting and it's actually convenient to have one place to browse and get good information on all sorts of topics — from how to travel cheap to how to manage your life. (And I challenge you to look at the pictures featured in the newborn photography classes without going, "aawwww"... and this from a person who is generally immune to all manners of baby charm! Seriously, go look.)
Something that I didn't expect to find was a schedule of upcoming broadcasts. (Yes, they actually tell you when you can get in on the freebies!) In fact, there are a couple in particular coming up in mid-January that I wanted to draw your attention to, simply because they centre around
topics that have been discussed
right here on my blog: setting up an online shop (
Beyond Etsy
) and pricing your products (
The Psychology of Pricing: A Guide for Crafters
). Both will be taught by
Megan Auman
. I'm in for the latter!
The totally unique aspect of CreativeLive is that the initial broadcast of the majority of their classes is indeed
live
(out of San Francisco or Seattle; PST time zone, which is GMT -8:00). Classes are shown in real time, often in front of an interactive audience and if you join in at home, you also have the opportunity to interact with the instructor. These classes with Megan in January will be initial live broadcasts. If you sign up with CreativeLive, you can RSVP to these sessions.
To clarify, though, you don't need to sign up to enjoy their free content. (You can even view free sample lessons from some classes without signing up.) If you ever want to purchase a class, you will need to have an account to retain access. As I disclosed at the top of this post, I am an affiliate and will get a small compensation for a signup, but I am just very impressed by what I've seen and wanted to share it. (And the other advantage to signing up is that you can be kept informed of future offerings.)
As for actual sewing content, well, Betz White teaches a series of three classes (each with seven or eight lessons) to guide you through making your own
custom
tote. The bundle price is $89, each separate class is $39. Yes, that's a bit heftier than the prices at Craftsy or Creativebug, and without having seen them, I cannot make a recommendation one way or the other, although I will say that Betz is a known quantity. (
Update
:
I have seen them now
.) However, we are still talking
tote bags
here and whether a project as inherently simple as that is worth the cost is for someone else to decide.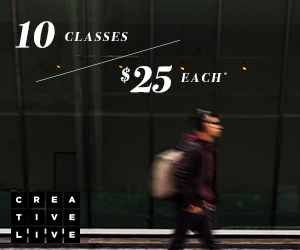 Another class (not Betz's) priced at $49 teaches you how to make a basic box construction pouch, which totally blew my mind because you can find those for free almost anywhere.
My opinion about this is that you will likely pay for your sewing classes elsewhere, but CreativeLive is a valuable resource for any promotional or business related aspects of your sewing hobby. For example, a class called
Fast Start Your Sewing Business
with five lessons at $29 has received several positive reviews. You may also find
Etsy 101: Launch Your Handmade Shop
of value, it being $39 for fourteen lessons. Don't forget to check out their blog also for some great tidbits and sundry advice.
Intrigued? Click here for a
list of their upcoming freebies
and mark your calendar. Here are a few that are topical:
If you're actually making money... Dec 5/6: Bookkeeping for Crafters
If you don't have time... Dec 5/6: Time Management 101
And if you're slaving away at shows and markets... December 6/7: Craft Show Secrets: How to Get In, Make Sales and Grow Your Business
But the
really
good news is, if something has caught your eye during your browsing, you are in luck: CreativeLive is having a
site-wide sale of up to 40% off
through to December 24th!
Happy browsing... and let me know about any hidden gems that you find! (And don't forget to take a peek at those newborn photography classes!)