DISCLOSURE: I am a Craftsy Affiliate and receive commissions from them via sponsored ads. Since they offer so many great sales throughout the year, I've set up this page as a "mini blog" to provide updates about certain special promotions from Craftsy. For your convenience, a history of past sales (and dates) over the past year or so will be available as you scroll down. Enjoy — Craftsy is a great resource!

Are you a blogger thinking of joining the Craftsy family of affiliates? Check out my Joining & Implementing Craftsy's Affiliate Program page for details on how to proceed.
---
50% off CRAFTSY PURCHASES with NEW Bluprint SUBSCRIPTIONS
Finally a
Craftsy
promo worth updating this page for... sign up for a monthly or annual
Bluprint
subscription and get 50% off the full listing price of Craftsy classes, DVDs, kits and supplies (some exceptions apply) from
November 3rd through December 31st, 2018
.
To redeem this discount, you have to sign in with your
Bluprint
email address and password on Craftsy.com. (This offer does not apply to or include free trials; discount cannot be combined with other offers or promotional codes.)
Check it out
here
.
---
Biggest Sale of the Year... MAKERS' BLACK FRIDAY SALE to August 6, 2018
Apparently it's time to start thinking of the end of year holiday season already. If you're one of those who likes to plan well ahead of time, take advantage of up to 70% off Craftsy supplies this weekend!
---
INTRODUCING bluprint... the NEW BRAND for CRAFTSY UNLIMITED!
Craftsy has rebranded its unlimited class offerings under a new name. You'll still get a one week free trial if you want to check it out, and the benefit that they're touting is that the new brand offers a whole lot more under one umbrella. Apparently that means more content under more than twenty different categories (with new ones like home decorating, writing, fitness and yoga).
That almost sounds like a direct competitor to
CreativeLive
, which I have recommended in the past.
What does that mean for the rest of Craftsy? Well, for now, it's still there for the independent designer marketplace, physical materials sales and single class sales. (How long that might still be in place? Anyone's guess...)
Anyway, if you're curious, sign up for
the free trial
. If you do so by August 1st, you will be offered
33% off the first three months
or
$20 off the annual fee
. (Regular pricing for one month at a time is $14.99 USD and annual is $120 USD.)
By the way, it clearly states that during your free trial, you will have access to all downloadable material, which I mentioned
in this blog post
is a good way of using your free access.
---
UP to 60% OFF CRAFTSY KITS & SUPPLIES, thru July 15, 2018
Big changes are around the corner for one of Craftsy's most important revenue streams (guess which one?); as of July 17, check out
MyBluPrint.com
for all the details. In the meantime, it's business as usual. If you need sewing, quilting, knitting and crocheting supplies and kits, get 'em out while this sale is on.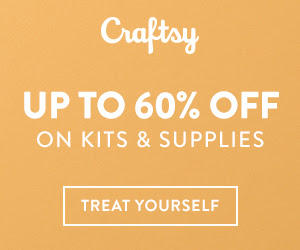 Check out
what I bought
during a similar sale earlier this year. (The RK fabrics are now even
more
deeply discounted.)
---
1 YR of CRAFTSY UNLIMITED for $20 (net), thru May 16, 2018
Craftsy is determined to have you as a subscriber to its UNLIMITED streaming video platform. So much so that they are willing to give you back $100 in coupons (4 x $25) if you go the annual route. That would be $120 USD with a $25 coupon for Craftsy supplies once every three months.
Yes, that's
a total of only $20 USD out of pocket for one whole year of access to everything Craftsy has to offer
. If you've been thinking about it, now is the time to DO IT!
Not ready to commit to a year? How about the arguably better offer of
one month of access at $14.99 USD and a coupon for $25
?? Yes, it's almost insane. Click the link above to sign up for either offer.
---
ULTIMATE MAKER'S PKG for Sewing or Quilting, thru March 31, 2018
It's hard to keep up with Craftsy these days, as it tries to drum up interest in its "all you can craft" subscription service. I've already blogged about my experience during their recent
free trial weekend
and I will say that there is something there for everyone. Whether or not you're the right fit for this type of learning is totally your call, but if you've spent any money on previous classes, these new plans are worth checking out.
images courtesy of Craftsy...
For the remainder of the month of March, if you sign up for one year of Craftsy Unlimited at $120 USD, you'll get your twelve months of access to Craftsy,
plus
a $25 coupon for sewing supplies
and
free shipping for anything else you might need.
This offer is limited to US and Canadian subscribers.
But if
you live in the US and are into quilting
, the other deal is
way
better. For the same $120 USD for one year of Craftsy Unlimited, you'll also get your choice of one of three best-selling quilt kits (valued at up to $180),
plus
the $25 in free supplies and free shipping.
---
Get 2 Weeks of CRAFTSY UNLIMITED for ONLY $1!
Half a month of "all you can learn" at Craftsy for only $1? Yep, it's true. Click
here to sign up
and get a taste of unlimited access to Craftsy's 1,300+ classes and all of the extra perks that they've incorporated into the membership platform.
image courtesy of Craftsy.com...
As a member, you'll also have access to new content and patterns that are unavailable elsewhere. Sign up for either a one week free trial or take your time with two weeks for $1. You can't lose either way.
---
Get 1 Year of CRAFTSY UNLIMITED for Net Cost of $20*!
What can you expect when you subscribe to Craftsy under their new model?
image courtesy of Craftsy...
If you're ready to craft full-time and have historically spent more than $10 USD per month, maybe this is your best deal.
* What's the catch on this deal for a year of Craftsy Unlimited for only $20? Well, that's your net cost if you subscribe by
February 28
.... although this offer still appears on their site as of March 1.
image courtesy of Craftsy...
Sign up for the annual plan under this limited time special and every quarter thereafter,
Craftsy
will email you a $25 coupon that you can use towards supplies from their shop, to a total of $100 worth by the end of your first year.
That's right: pay $120 upfront and get back $100 over the year. PLUS all of that great
Craftsy
content... as much of it as you can stomach!
If that doesn't interest you, the month to month rate is $14.99 USD. But no obligation if you just want to check it out with your free 7 day trial; your first step is to sign up
here
.
---
CRAFTSY'S 12 DAYS OF CHRISTMAS, though Dec 12, 2017
Check out the
different promos
happening every day during this period.
image courtesy of Craftsy...
The final two days will bring some extra special sales, so stay tuned!
---
BLACK FRIDAY & CYBER MONDAY Nov 23-27, 2017
No explanation needed here. Prices have been further unlocked for the American Thanksgiving weekend. Get classes for $17.87 or less (USD) and save up to 60% off on supplies and kits.
Want more? There's also a
free gift with purchase promo
on Cyber Monday —
check it out
!
---
UNLOCKING BLACK FRIDAY PROMOS EARLY on Nov 9, 2017!
Marking week one of early access to
Black Friday
promos, get in and
take advantage now
! You'll find awesome deals on sixteen of your favourite classes and kits and supplies starting today.
---
CELEBRATE BACK TO SCHOOL WITH FREE CRAFTSY ACCESS on Sep 4, 2017!
It can't be an April Fool's joke, because it's not even close to April. Celebrate the sending back of the kiddies to routine and some quiet time for you with 24 hours of "
all you can watch
" Craftsy classes!
What does this really mean? Well, there are over 1,200 Craftsy classes at your disposal. I can't guarantee that the site won't suffer with the amount of people who might show up for an event like this, but maybe you can use your time wisely. Suggestion? Are there classes that you've been considering but were afraid to commit to? Here's your chance to see if they're worth your while.
Because on
September 5
, there's going to be a class event. Use your free access period to firm up a wish list and fulfill that list the next day!
---
AUGUST CLASS EVENT — 50+ CLASSES UNDER $15 to Aug 28, 2017
Last week it was supplies and kits, this week it's over fifty of your favourite classes priced at under $15 (USD). Plus hundreds more for only $19.99!
Grab 'em this weekend
and prepare to craft away the cooler fall days.
Need a suggestion on a bargain? Here's one for you...
image courtesy of Craftsy...
This class
is on sale for $15, regularly $59.99 USD. (Canadian price points: $19.45 sale; $77.82 regular.) I've read a
good, in depth review about this course
that confirms you can still learn new tricks no matter what your age!
---
MAKERS' BLACK FRIDAY to Aug 20, 2017
I'm mildly horrified that we are entering the last half of August already, so thinking of Black Friday and then Christmas and other holidays is not unreasonable. If you need to gather up your crafting supplies to make your gifts this year, now is the time to do it. Craftsy describes this as "the event you've been waiting for" to "score the lowest prices of the year on your favorite fabric, kits, and supplies."
Get to it and
shop now
!
---
JULY CLASS EVENT to July 4, 2017
I've been pre-celebrating Canada Day on my blog for the past several months, so maybe a
Craftsy
sale is in order to complete the occasion. This is actually the Independence Day
Go Fourth and Save
sale, but let's not be picky! You can get
every Craftsy class for under $20 USD
this weekend, so if you have a wish list to fulfill, now might be the time.
While you're there, did you know that
Craftsy
has put some of their most popular classes on DVD? If you have a family member who doesn't have easy access to the internet (yes, there are still some of those) or just someone who prefers to be able to see classes on a TV screen in a sewing room, this could be your ticket!
image courtesy of Craftsy...
If you're interesting in checking them out, click
here
. (And yes, I know, it would be nice if there was a "deal" for those who already bought a specific class to upgrade to a DVD...) Prices vary, but seem to start at $20 USD.
---