Disclosure: I am a member of CreativeLive's affiliate program. This post contains affiliate links through which I may be compensated when visitors click through and make a purchase.
I made this giant paper flower after lurking at a CreativeLive class...
you probably can't tell by the picture, but it'

s 15" (38cm) across!
I admitted this
some time back
, but it's worth repeating to provide some context for this post: I am not a course or class taking person.
Some people find that fact about me really odd, considering I spent several years in a variety of classrooms teaching others. The truth is, I really don't have the patience to be a student. (Don't get me wrong... back in my younger days when it was my "job" to be a student, I was a model student!)
My learning methodology as an adult, however, involves "jumping in and jumping around", which — interestingly enough — very much goes against my mostly organized state of being. Or a regular class syllabus, for that matter.
Still, when I discovered
CreativeLive
several months ago, its setup was intriguing enough for me to pop in and soak up some "learning".
---
---
If you need a refresher about CreativeLive, it offers classes running the gamut from "
how to make your dream trip a reality
" to "
thrift store shopping 101
" to "
protect and profit from your intellectual property
". All classes are broadcast according to an established schedule and are offered FREE during that time. Original broadcasts are
live
and therefore take as much time as needed; i.e., three days if a three day course. If the class is a re-broadcast, it is shown on a continuous loop for twenty-four hours.
To date, I have "popped in" on several classes, including
Betz White
's
Build Your Own Tote: Interior Details
and
Build Your Own Tote: Customized Exteriors
,
Vicky Howell
's
Monetize Your Craft
,
Bonnie Christine
's
Design Surface Patterns from Scratch
,
Robert Mahar
's
Paper Crafting: Skills & Technique
, and
Molly Hatch
's
Pattern Design: From Hand to Screen to Surface
. With the exception of Betz's classes which I was pretty much able to see all of, my "attendance" at the other classes was somewhat spotty. But here's the thing: I learned something in each one.
Close-up of the giant flower that I made after Robert Mahar's class on paper crafting techniques...
the center of the flower is made out of an entire sheet of 8.5" x 11" paper.
What did I learn? Well, let's take a closer look at each of the above...
Betz White's Build Your Own Tote: Interior Details &
Build Your Own Tote: Customized Exteriors
You know how you "sort of know" how to do something, but then it instantly clarifies when someone does it in front of you? That's how I felt for the concepts that Betz hit upon during these two classes. Nothing was really new for me here, but seeing it done on the fly for no particular project — and that's the neat thing about these two classes — really reinforced the various techniques. What did I value the most? The tips about installing piping in the "exteriors" class. (Betz has a "part one" to complete this bundle of three classes —
Build Your Own Tote: The Basic Bag
.)
Vicky Howell's Monetize Your Craft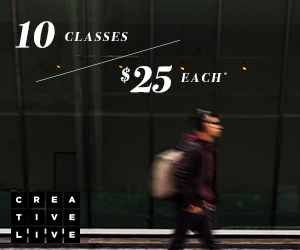 Take advantage of current promos!
A lot of what Vicky presented in this class did not/does not apply to what I want to do, but it was darn interesting to hear! She has an amazing background and loads of experience to share if you want to do the difficult work of selling what you make. She's a great presenter, too, which is usually the hardest part for people to master in these new classroom environments. What did I learn? Sometimes things happen in the most peculiar ways: know when to go with your gut!
Bonnie Christine's Design Surface Patterns from Scratch
I don't have
Adobe Illustrator
and have never used it, but my graphics program of choice (
Paint Shop Pro
) has some of the same capabilities and many of the same concepts as what was shown here. Overall, it was just very interesting to watch someone create original designs on the go, and Bonnie knows her stuff. My surprising takeaway from this class? The SHIFT-click combination on the elliptical tool draws a circle! (Yes, even in PSP; you would not believe the steps I used to have to go through to ensure that my ellipses turned into perfect circles!)
Robert Mahar's Paper Crafting: Skills & Technique
I missed most of Robert Mahar's lessons on making the giant paper flowers — my schedule did not match well with that portion of his class — but I managed to come away with enough info to make that big flower (and these subsequent smaller ones) that you see decorating this post.
This is going to be a Mother's Day "bouquet" for my mom...
each leaf is crafted out of a single sheet of 12" x 12" scrapbooking paper!
(That's a pink highlighter pen to give an idea of scale.)
No bad for a first effort on a lesson that ended unexpectedly, huh? (Well, it wasn't
unexpected
, just bad timing. Not only was I was in the middle of trying to cook dinner, the end of the twenty-four hours came right when he was describing how to assemble the flower... and I never did get to see the part about making the leaves. Luckily, I managed to find a tutorial for them elsewhere on the web.)
Oh, and I found his lessons on paper marbling
totally
fascinating!
Molly Hatch's Pattern Design: From Hand to Screen to Surface
It was surprisingly interesting to see someone's hand-drawn creations come to life from paper to product. This time the software used in between is
Photoshop
(which I also do not have and have never used), but as with Bonnie Christine's course using
Illustrator
, there are similar enough elements among all of the graphics programs that I could benefit from the demonstration. Speaking of demonstration, I was familiar with the process of making a seamless repeat using the "cut and tape" routine, but it was instructive to see it being done in front of me (much like how I felt about Betz's class).
[After this class, I was inspired to make my own hand drawing and convert it into a surface design... fabric, in my case. You can expect to read about that process in
an upcoming post
.]
---
Check out Creativebug's Bag of the Month series for free...

and continue for only $4.95 a month!

[affiliate link]
---
Being the kind of learner that I am, I'm probably never going to drop several bucks on one of CreativeLive's classes (in order to keep forever and be able to "attend" on my own schedule). But the value that I'm getting from attending even partially goes well above the amount that I'm not paying.
Perhaps they should provide a "tip jar" so that those of us popping in and out can express our gratitude for being able to consume for free. Might that be an idea to consider, CreativeLive?