DISCLOSURE: I am a Craftsy Affiliate and receive commissions from them via the ads on my blog. This post is a guide for those interested in joining the affiliate program. For information on how to sell your PDF patterns on Craftsy, check out my blog post here.
---
I'm fortunate to have been a part of the evolution of personal computing from its infancy. (The term "personal computing" probably seems anachronistic to some!) Having known the hard way of doing things on computers — and boy, some of those "hard ways" were
really
perverse — today's technology is not much of a mystery to me.
So I feel for those who have a difficult time navigating through the morass that it can be. No matter how simple the proclamations are to "sign up now and start today", it's really never an instantaneous transition from idea to reality. Not even for those of us who generally know what we are doing. So since I could not find very much help regarding how to set up a Craftsy affiliate account, I thought I should post one myself.
If you have a blog or website,
Google Adsense
is one way to make some pocket money. (I've had an Adsense account for over eleven years and while it hasn't even managed to support a weekly cup of coffee in that time, it
has
paid.) Here is another way: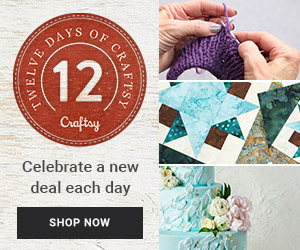 The ad that you see above is obviously from
Craftsy
, of course, but it is linked to my personal account in their affiliate program, providing me with a commission when someone clicks through on it and makes a purchase. There are all kinds of different affiliate programs out there, but if your blog/website relates to crafts in any way, you should consider this one.
If you have never looked into
Crafty's affiliate program
before, here are the details as of
November 12, 2016
:
Receive 75% commission on course sales for first time buyers (30 day cookie) and 15% commission on all course sales for returning buyers (5 day cookie)

Earn a 15% commission on Cloudborn, Colonial Manor and Boundless product sales (30 day cookie for new customers, 5 day cookies for returning customers)

Earn 4% on all other Craftsy products (5 day cookie)
Get $15 for referring new affiliates (who are active within 30 days)
To be honest, prior to two previous changes to the commission structure, I would have said that it is easy to start making money fairly quickly (I'm pretty "small time" as far as bloggers go and I converted my first commission payment in three months) but this current setup drastically reduces the amount that the average affiliate earns. (We used to earn 10% on
any
type of product sale.) Which is not to say that it's not a good affiliate program, just that the "best of times" are pretty much in the past.
---
Read the Craftsy Affiliate Terms and Conditions here.
Read the Craftsy Affiliate Program FAQs here.

---
How to Become a Craftsy Affiliate
To sign up, click
here
to access the
ShareASale
page that will process your application. (
ShareASale
is the organization that administers Craftsy's affiliate program, among many others.) You'll need to go through five steps, starting with a form that looks like this:
On this first page, register your username, password and country of residence...
In the next steps, you'll answer some questions about your website, provide your primary email address, enter some basic contact information and then provide a short description about your website that will help the admin folks decide whether or not to accept you into the program. (If you own your domain, the approval will proceed much faster.)
I found this
ShareASale blog post
to be an an excellent summary of what to expect during the application process, as well as how to proceed after you've been accepted. It is, however, generic; i.e., not specific to Craftsy.
Note that you will receive
two
confirmations of acceptance before you can start earning money with Craftsy. The first acceptance will come from ShareASale itself; the second one will come from Craftsy. Approval from ShareASale came within two days, pending submission of a
non-US Certification form
. (This is
only
required for non-US citizens; I actually had to print out, sign, scan and create a PDF to send back since they don't have an authenticated online method of doing this.)
Documentation to be provided by non US affiliates...
Within four days of applying, approval came from Craftsy. That same day, I also received an "affiliate gift": my choice of a Craftsy course up to a $50 value. I chose the rather obvious
Design Your Own Handbag
class; a
detailed review of it is here
.
---
Ready to Sign Up? Join Craftsy's Affiliate Program Today!

---
Getting Craftsy Affiliate Links for Your Site
Your next question might be, so what do you do now that you're approved as an affiliate? You start putting links on your blog/website, of course. And where do you get these links? You have to log onto
ShareASale's affiliate site
. This is explained to you in your "Welcome to the Craftsy Affiliate Program" email, a portion of which you can see below (circa 2014... it's probably very different now).
Part of the Welcome to Craftsy Affiliate Program email...
While the explanation of how your banners and links will be kept current is reassuring, you would be among good company if you were still a bit perplexed at this point about how to proceed. So let's head on over to ShareASale again...
After you log in, you should see the following "dashboard" across the top of the screen:
Select the
LINKS
tab and then click on the
GET A LINK/BANNER
as shown. This will trigger a screen showing a table at the bottom listing your currently approved merchants. At this point (unless you've had interactions with ShareASale before and belong to other affiliate programs), you should see two rows, one corresponding to ShareASale and one to Craftsy.
Here is a close-up screen shot of where you can find the
Get Links
link to access all of Craftsy's affiliate links and banners :
The top part of the next screen allows you to enter search criteria to filter out specific links/banners.
I've specified a category of "sewing" here; once I click the
Refine Search
button, only links/banners associated with sewing will come up in the bottom part of the screen. On this day, there are 91 text links and 19 banners available under the category of "sewing".
This screen opens by default showing the
TEXT LINKS
tab. Whichever text link interests you, simply go to the last column on the far right and click on
Get HTML Code
. For example, doing this for the second row (in this case,
Sewing Machine 911
) gives you the following:
You can then copy and paste the HTML code into your blog post/website as required.
More than likely, you'll want to start with banners. Select the
BANNERS
tab and the screen will change to show you all of the available banners.
On this screen, click on the actual banner that catches your fancy in order to see the HTML code that will reproduce that banner on your site. For example:
One more link tool that you will want to use at some point is the one that allows you to create a custom link (select the
LINKS
tab from the dashboard, then
CREATE A CUSTOM LINK
). If you are blogging about a favourite class or product, you may want to create a link directly to it. This feature allows you to create an affiliate link out of
any
Craftsy.com page.
Finally, if you are also selling patterns on Craftsy and want to get your own "
I'm a Craftsy Designer
" link button, click here for the
Craftsy blog post
that will show you how to do so.
---
Block Affiliates from Google Adsense
If you are running Google Adsense on your site as well as affiliate links like Craftsy, you will want to block those affiliate domains from Adsense. (Point being that you don't want your visitors seeing duplicate ads from Adsense on your site; worse yet, you wouldn't want them clicking through via Adsense when you get a higher payout via the affiliate link.) This is easily done by selecting Allow block ads from the dashboard and then entering the URL to block (in this case, craftsy.com).
---
Checking Your Affiliate Account Activity
Once you are an affiliate, you need to sign on to ShareASale if you want to check if you've earned any revenue. (There is no automated way for you to be notified, unfortunately.) Select the
Reports
tab, and click on
Activity Details
to get a rundown of what's been credited to your account.
And of course, as you might have already seen, there are a lot of tools at your disposal within ShareASale to review and analyze your data. By all means explore those on your own when you start making sales.
---
Click here to join Craftsy's Affiliate Program!
---