DISCLOSURE: I am a Bluprint Affiliate and receive commissions from them when visitors click on ads and make purchases. Since they offer so many great sales throughout the year, I've set up this page as a "mini blog" to provide updates about certain special promotions from Bluprint. For your convenience, a history of past sales (and dates) over the past year or so will be available as you scroll down.

Are you a blogger thinking of joining the Bluprint family of affiliates? Check out my Joining & Implementing Craftsy's Affiliate Program page for details on how to proceed. NOTE: This particular post is quite old now and some of the information may no longer apply.
---
Labor Day Sale: 40% Off Sitewide!
Getting ready to send the kids back to school? Don't forget to take advantage of
Bluprint's sitewide 40% off sale
this weekend!
Don't miss out... sale ends Monday, September 2!
---
How Does 70% off Work for You? — Aug 1 - 4 ONLY!
Do you have some supplies you need to replenish? Kits you've always wanted to grab? Well, this sale is your chance to do both.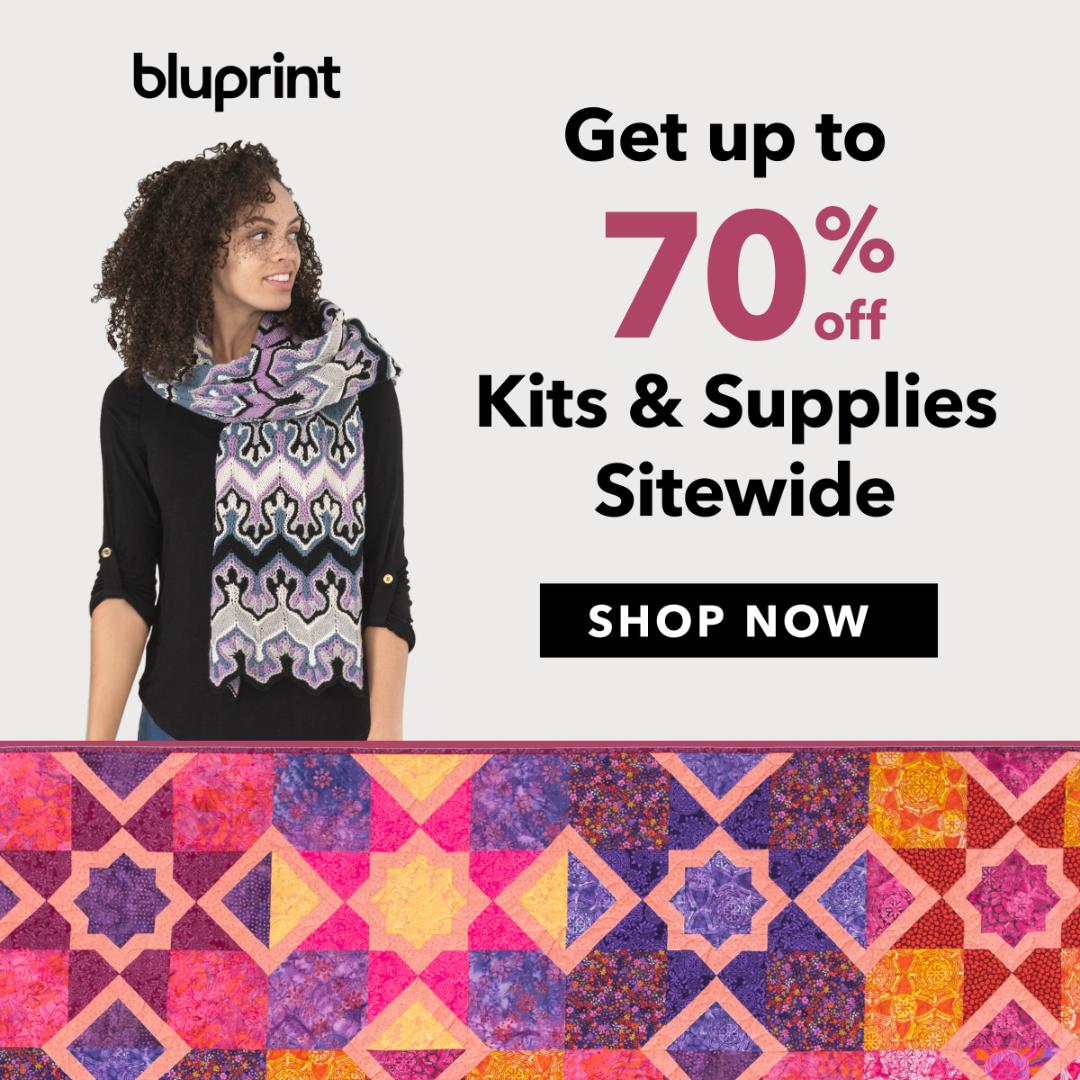 Check it out now, as
the promotion
will only last through the weekend of August 4!
---
Celebrate Bluprint's Birthday with New DEAL of the WEEK Promo!
What is it?
Could be anything... check each week for a
fresh savings
offer on kits, supplies and more!
There will be extra bonus offers for members only, so you may want to consider one of their birthday celebration half or full year subscriptions offers like these...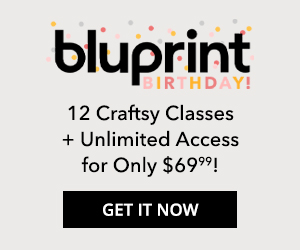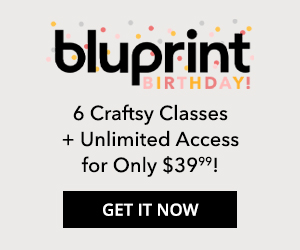 ---
1 Yr Bluprint PLUS Quilt Kit & 12 Classes for $99 — thru July 20, 2019
Are you a quilter? Or wanting to take your quilting skills to the next level? Then this might be a worthwhile deal from
Bluprint
: get 1 year of access to all classes (1,300+), 12 classes of your choice to "own forever" (i.e., have access to even after your subscription is up),
and
a quilting kit — value up to $145! — of your choice!
The quilting kits run the gamut from traditional to modern; take a look...
image courtesy of Bluprint...
In case you didn't know, the offer includes 15% off kits and supplies from the Bluprint shop.
I tell ya, if I was a quilter, I might be tempted! Click here to
grab the deal
.
---
30 Days of Access to Bluprint for $1 — April 20-30 Only!
Bluprint
is pulling out all the stops with this one. If you haven't yet taken advantage of any of their offers to try out their streaming service, this is your chance to do so leisurely for a full 30 days... and you'll get an additional 15% off supplies to boot!
Click the graphic above to access this special offer (no coupon code needed).
---
Get a FREE Travel Iron with Monthly Bluprint Subscription!
The
Steamfast Travel Steam Iron
is the perfect solution for setting crisp creases and removing wrinkles on the go. With a one-minute heat-up time and small, versatile soleplate, it's ideal for touching up quilts, garments and pre-cuts. This travel-size iron is made with quality and durability in mind, so it's sure to last for many projects to come.
Add a Steamfast Travel Steam Iron to your cart
and select
Monthly Plan for $7.99/month
at checkout to get
up to $30 off your order
.
NOTE
: Offer only good for US residents. Exclusions apply.
---
7 DAY FREE TRIAL IS BACK!
Have you taken advantage of the "free week" offer at Bluprint yet? No? Then here is your chance.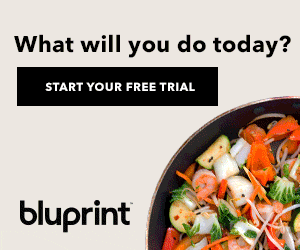 Back for a limited time only, check out the activity for seven days and see what you can learn.
---
30% off Supplies & Kits — through March 17!
Are you lucky? Well, you don't have to be to get 30% off this weekend.
Just use coupon code
POTOFGOLD
to get your discount at checkout. (Offer expires March 17.)
---
Get $10 Off When You Buy $50 Worth of Supplies — Feb 19 & 20 ONLY!
Who doesn't like a 20% discount?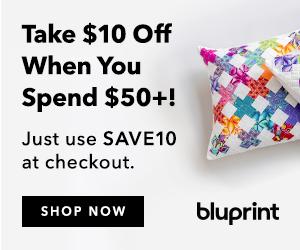 Use code
SAVE10
on checkout to collect your offer — valid Tuesday February 19 and Wednesday February 20 only.
---
Valentine's Day Promo — Through Feb 17
Get 12 classes to keep forever when you subscribe to Bluprint for
one year at only $69.99
!
This offer expires on February 17.
---
Up to 60% Off Kits and Supplies — Through Feb 10
Get DVDs for $15 and deep discounts on your favourite supplies and kits.
---
$15 DVD Sale - ONE DAY ONLY JANUARY 27
Are you "old school" by nature? Does the idea of relying on streaming video give you the heebie-jeebies? Do you want reassurance that your purchased classes will truly be yours forever?
The only way to be sure is to have your essential classes on DVD. Take advantage of this one day only promo and pick up your choice for only $15 each (shipping not included).
Scroll down to see some of the recent promos that are still available.
---
Take the Bluprint 7-Day Free Trial
Craftsy
is now
Bluprint
and here's your chance to get a taste of the variety of content offered by the rebranded crafting site.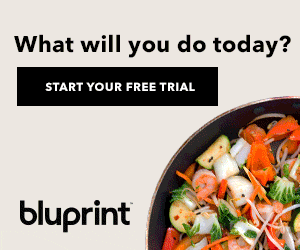 Get 7 days of free access to craft as much as you can!
---
1 YR of Bluprint All Access & 12 Classes to Keep Forever for $79!
Take your pick of two options: $7.99 USD for one month and keep one class forever, or take one year for $79 USD and pick 12 classes to keep forever!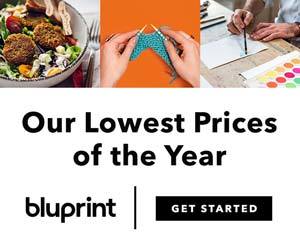 Get in on this if you want the best pricing this year. Limited time offer only!
---
CRAFTSY is now Bluprint!
The rebranding — for good or bad — is now formally a done deal. The
Craftsy
name is gone, but we are told its spirit lives on as
Bluprint
! Here is just one of the current promos.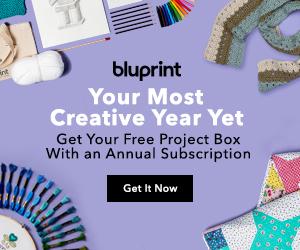 For those of you who have libraries of
Craftsy
classes, the new
Bluprint
promises to keep them intact while encouraging you to sample its new "buffet" format.
---
50% off CRAFTSY PURCHASES with NEW Bluprint SUBSCRIPTIONS
Finally a
Craftsy
promo worth updating this page for... sign up for a monthly or annual
Bluprint
subscription and get 50% off the full listing price of Craftsy classes, DVDs, kits and supplies (some exceptions apply) from
November 3rd through December 31st, 2018
.
To redeem this discount, you have to sign in with your
Bluprint
email address and password on Craftsy.com. (This offer does not apply to or include free trials; discount cannot be combined with other offers or promotional codes.)
Check it out
here
.
---
Biggest Sale of the Year... MAKERS' BLACK FRIDAY SALE to August 6, 2018
Apparently it's time to start thinking of the end of year holiday season already. If you're one of those who likes to plan well ahead of time, take advantage of up to 70% off Craftsy supplies this weekend!
---
INTRODUCING bluprint... the NEW BRAND for CRAFTSY UNLIMITED!
Craftsy has rebranded its unlimited class offerings under a new name. You'll still get a one week free trial if you want to check it out, and the benefit that they're touting is that the new brand offers a whole lot more under one umbrella. Apparently that means more content under more than twenty different categories (with new ones like home decorating, writing, fitness and yoga).
That almost sounds like a direct competitor to
CreativeLive
, which I have recommended in the past.
What does that mean for the rest of Craftsy? Well, for now, it's still there for the independent designer marketplace, physical materials sales and single class sales. (How long that might still be in place? Anyone's guess...)
Anyway, if you're curious, sign up for
the free trial
. If you do so by August 1st, you will be offered
33% off the first three months
or
$20 off the annual fee
. (Regular pricing for one month at a time is $14.99 USD and annual is $120 USD.)
By the way, it clearly states that during your free trial, you will have access to all downloadable material, which I mentioned
in this blog post
is a good way of using your free access.
---
UP to 60% OFF CRAFTSY KITS & SUPPLIES, thru July 15, 2018
Big changes are around the corner for one of Craftsy's most important revenue streams (guess which one?); as of July 17, check out
MyBluPrint.com
for all the details. In the meantime, it's business as usual. If you need sewing, quilting, knitting and crocheting supplies and kits, get 'em out while this sale is on.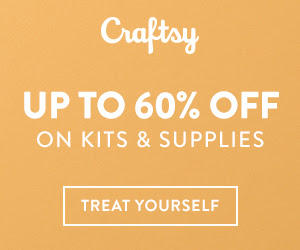 Check out
what I bought
during a similar sale earlier this year. (The RK fabrics are now even
more
deeply discounted.)
---
1 YR of CRAFTSY UNLIMITED for $20 (net), thru May 16, 2018
Craftsy is determined to have you as a subscriber to its UNLIMITED streaming video platform. So much so that they are willing to give you back $100 in coupons (4 x $25) if you go the annual route. That would be $120 USD with a $25 coupon for Craftsy supplies once every three months.
Yes, that's
a total of only $20 USD out of pocket for one whole year of access to everything Craftsy has to offer
. If you've been thinking about it, now is the time to DO IT!
Not ready to commit to a year? How about the arguably better offer of
one month of access at $14.99 USD and a coupon for $25
?? Yes, it's almost insane. Click the link above to sign up for either offer.
---
ULTIMATE MAKER'S PKG for Sewing or Quilting, thru March 31, 2018
It's hard to keep up with Craftsy these days, as it tries to drum up interest in its "all you can craft" subscription service. I've already blogged about my experience during their recent
free trial weekend
and I will say that there is something there for everyone. Whether or not you're the right fit for this type of learning is totally your call, but if you've spent any money on previous classes, these new plans are worth checking out.
images courtesy of Craftsy...
For the remainder of the month of March, if you sign up for one year of Craftsy Unlimited at $120 USD, you'll get your twelve months of access to Craftsy,
plus
a $25 coupon for sewing supplies
and
free shipping for anything else you might need.
This offer is limited to US and Canadian subscribers.
But if
you live in the US and are into quilting
, the other deal is
way
better. For the same $120 USD for one year of Craftsy Unlimited, you'll also get your choice of one of three best-selling quilt kits (valued at up to $180),
plus
the $25 in free supplies and free shipping.
---
Get 2 Weeks of CRAFTSY UNLIMITED for ONLY $1!
Half a month of "all you can learn" at Craftsy for only $1? Yep, it's true. Click
here to sign up
and get a taste of unlimited access to Craftsy's 1,300+ classes and all of the extra perks that they've incorporated into the membership platform.
image courtesy of Craftsy.com...
As a member, you'll also have access to new content and patterns that are unavailable elsewhere. Sign up for either a one week free trial or take your time with two weeks for $1. You can't lose either way.